HVAC Preventative Maintenance to Extend the Lifespan of Your Unit
When was the last time that you had your HVAC system inspected or cleaned? If you're like most homeowners, it's probably been a while. However, ignoring this task can set you up for future issues and even premature replacement of your furnace or air conditioner.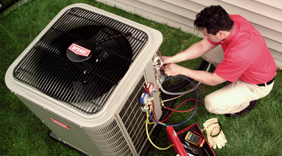 It pays to regularly maintain your HVAC system to keep it working efficiently, but you must entrust this job to experienced technicians. Gold River Mechanical, Inc. has been doing preventative maintenance for decades and our experienced team can ensure that your HVAC system lasts its full lifespan. If we discover that your unit needs to be replaced, we offer free estimates and comprehensive solutions, and will guide you through the replacement process.
What's Included With an HVAC Maintenance Inspection
While there are some tasks that you can do yourself – changing your air filter, for example – most of the intricate parts of maintaining your system will have to be done by an expert. A professional inspection typically involves the following:
Removing any clogs in the drain lines
Cleaning condensers & evaporator coils
Looking for any dust buildup (inside & outside) or mold or mildew growth
Replacing worn-out belts, pulleys & batteries
Dumping drain pans to avoid overflows
Cleaning or replacing filters
Inspecting the electrical system, connections & fan motor
Lubricating all moving parts
Looking for leaks, especially within the HVAC cabinet, and ensuring that the HVAC cabinet door adequately closes
Verifying that thermostats & controls are working properly
Schedule a Preventative Maintenance Inspection Today
Let Gold River Mechanical service your HVAC system. We'll clean it as well as fix any minor issues before they become worse. Schedule a free estimate by calling us at (916) 652-6105, or you can fill out our online form.